For three weeks I have been stuck at home on my own. This means no sex. Well OK there is solo sex but I really lost my mojo for that when lockdown was announced. My go to prison wife fantasy wasn't working for me. All I could think of was the reality of prison life now, during the crisis, the way in which the virus is cutting a swathe through the helpless population trapped in our stinking overcrowded jails. Fantasies were everywhere crowded out by awful reality and my libido died.
Well I did for a couple of weeks then, our local police began a high profile enforcement of lockdown she began a regular patrol of my street. She was blonde, not pretty exactly with her aquiline nose and sharp chin that gave her a hard appearance although she did break into a smile when talking to the children playing in their front gardens. When she smiled she was almost beautiful.
That was enough for me. Too much beauty in a woman is a turn off. I began to fantasise about her, I moved my desk in the home office to be by the window so that I could watch her on patrol and frig myself as I did so. In my fantasy she leads me from the house in handcuffs, I am humiliated in front of the neighbours as she leads me to the car, roughly pushes my head down as I get in. At the police station I am processed, stripped of my possessions and locked in a stinking windowless cell where I wait for her. By the third time I was ready to take the fantasy further.
At about three o'clock on Good Friday as I sat at my kitchen table working on my blog, enjoying a cup pf tea and a Hot Cross Bun there was a knock on he door.
It was her. I started.
"Miss Eve Ray?"
I nodded.
"I need to come in and speak to you. There has been a report about you breaching lockdown regulations."
"Who…."
"I can't disclose that. But the matter is serious."
I beckoned her in and showed her through to the kitchen. I glimpsed at her name badge. She was PC Deborah Morris.
"Look Deborah I am happy to answer any questions but there has surely been a misunderstanding."
I felt her gloved hand slap my cheek.
"You will address me as Ma'am. Is that clear?"
I rubbed my cheek.
"Yes Ma'am" I said, more in shock than anything else. I looked at her. She continued,
"Reports are that you shopped at Tesco and at Boots this morning."
"Yes but I am allowed out to buy essential items aren't I?"
"I will decide what is essential. Show me the receipts"
I rummaged for them in my handbag, handed them to her. She studied them carefully.
"Prosecco"
She allowed herself a smile.
"Is Prosecco essential?"
"Well I think so."
"Shut up!"
I felt a stinging slap across the other cheek. She then studied the Boots receipt.
"Sanitary products? Are you having your period?"
"I don't see why you need to know that."
"If you're not on Miss Ray" she said with ironic emphasis on my name "these purchases are considered non-essential in line with Section 4 Paragraph 3 of the Corona virus Regulations 2020. As such buying them today would constitute a criminal offence. So I am going to ask you again. Are you having your period."
"That is my business not yours. I am not answering that question."
"Very well. In that case I am empowered by the regulations to give you a gynaecological examination to find out."
"You can't do that!" I protested.
"I can do what I like Miss Ray. The Coronavirus Act 2020 allows me to do what ever is necessary to prevent, investigate, and punish beaches of the lockdown regulations. I do what I want. You do as you are told. Is that clear?" .
She took a packet of latex gloves out of one of her many pockets., opened it and and put the gloves on with a chilling smack of latex against her skin. I felt arousal.
"Take your clothes off."
I hesitated.
"Strip." she screamed. I complied, pulling off my t shirt and leggings, my knickers, and leaving them in a heap at my feet.
She walked round me, inspecting me.
"Four tattoos! I wouldn't have had you down as the kind of person who has tattoos. And that lower back tattoo. Slag. That's what you are aren't you? A fcking sag!"
"Yes Ma'am."
I was very wet by now. I wanted this. I climbed onto the table and lay legs apart.
I felt her slide in a finger, two fingers, then the whole hand as my cunt dilated. She moved her hand in in and out, gently at first, then more firmly, placing her thumb in my clit as he did so. She was no novice at pleasuring women. Then, having brought me to the edge of orgasm, she kept me there.
"It's not looking good for you is it Miss Ray? Is it? You cold go down for six months fr non essential purchases. Do you know that?"
I said nothing, desperate to be brought to orgasm.
"I am going to need to go in deeper" she said, unclipping the baton from her belt.
She fucked me with it, brutally, rhythmically. As she picked up the pace I arched mt back to give her the angle to push it in deeper. I came with a scream. She pulled the baton out.
"Look how wet that is you dirty slag. Lick it clean."
She held it for me to lick my juices off it which did greedily.
I got down from the table shaking. I needed aftercare. to be wrapped in a blanket and cuddled, just as my lovely dom does, but there would be no aftercare today. I collapsed at her feet, grabbing her uniform trousers, lowering my lips to kiss her boots. She held the baton threateningly.
"If I have to come here again, you are getting this up the arse."
"Please Ma'am " I said, struggling to articulate the words, "I have further offences to be taken into consideration. I would like to make a statement………. please."
To see more naughtiness for Masturbation Monday click on the image below.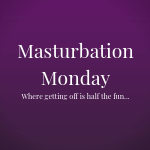 "