Dear John,
I hope you have had a great time on holiday. I have really enjoyed taking care of your flat and now have a week away myself. I look forward to catching up when I get back.
I have vacuumed, washed up the dirty plates you left lying around the place, (please don't use plates as ashtrays again!). I have watered your plants every day . I even cleaned your bathroom. I was going to change your bedclothes but well ……actually I have a confession to make.
I slept in your bed every night, loving how the sheets smelt of you, and I played with myself, coming as I fantasised about what we could do together in that bed. I put two, sometimes, `three finger into my soaking wet cunt, and smeared my juices on your pillow. And that porn mag in the bedside cabinet. The blonde in the centrefold, (she is gorgeous isn't she?) now smells of me. I so got off on rubbing her pussy against mine. Get up close, smell her and you smell me. Wank to her and you are wanking to me..
Enjoy your bed John, and know that on nights alone you are never alone. And you have my key. It's in the drawer with the mag. Do remember to water my plants, and if you could put the vacuum round that would be much appreciated. And why not sleep at mine? I want my bed to smell of you and I want to masturbate to you in my bed wen I come back, a bed that smells of you. I need you to come in my bed. Grind against the mattress after you come and mix your juices with mine.
And if I come back to a bed that smells of you then I know that I know I can leave my knickers at home when I next come round to see you don't I?
See you very soon
Your dirty little slut
Alice
A post for Masturbation Monday.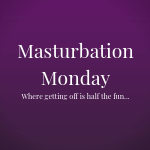 Check out the other posts here